It's been raining for a few days now, and I'm guessing that this is the beginning of true fall weather. So, I guess it's time for a fall roundup.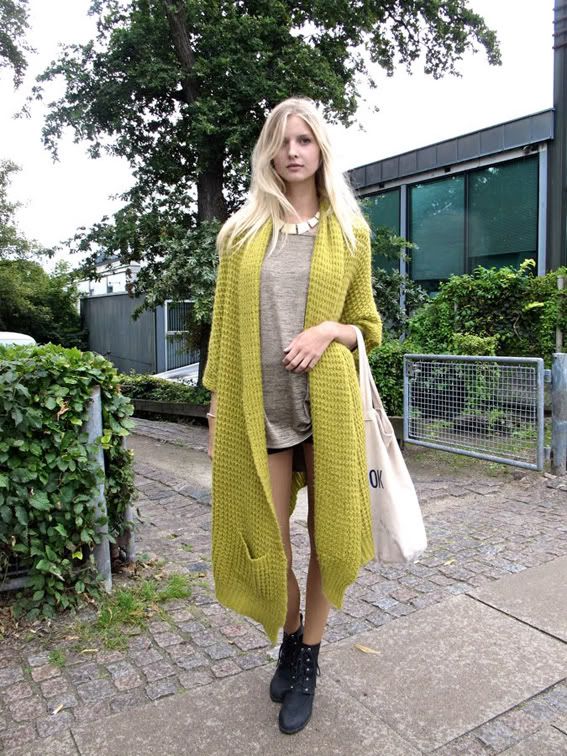 Mmmmmmmm! I love the one Greta Gerwig wears in Greenburg so much. It looks all musty and straight from the wash after it's debut from Goodwill. No matter what, the color doesn't take itself too seriously. I've seen some yarn in this color before and I always want to buy it up right then and there but I never know what to make with it. HM.
I'm not a big fan of the grungy dresses and cardigans (but watch me dress like that), but man, when you combine Americana sweaters, denim shirts, slouchy pants, and penny loafers, you've got Alaina's dream outfit front and center.

3. Anja Rubik in German Vogue
The shirt is genius. Just another example of my affection for story, ethnic inspiration, and texture above all in my clothing.
I love sweaters. Sweaters sweaters sweaters. I have so much sweater blogging to be done. Don't you worry. It'll come.
I love the versatility of coats and jackets in the winter. One interesting coat can change one's outlook on winter entirely, I believe. I also believe we'll be reading an entire post about this sometime in the near future...
Yum. Fall. My favorite clothing season. Yes.
*There WILL be a From the Spiral this week. Yes yes yes.